Ringwood Manor – Passaic County, Ringwood, New Jersey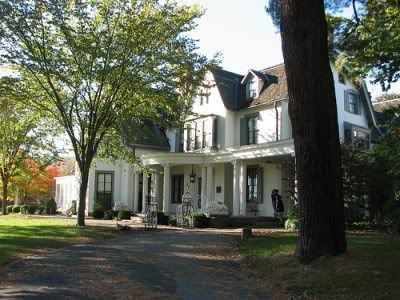 Photograph © DeBee1015
Originally a smaller home was built where the fifty-one room manor now stands. The original house was much smaller and was constructed by the Ogden family in 1740. This home was later sold to Robert Erskine, a map maker for George Washington. In 1807 the original house was torn down and a new home was built in its place by Martin Ryerson. Over the years, this main house changed hands several times and was significantly added on to until 1924, when it was left to the state of New Jersey.
The phantom footsteps of a former African/Indian servant have been heard echoing throughout the corridors of the mansion late at night. This apparition is believed to be Jackson White who lived in the manor during the nineteen-hundreds.
Doors throughout the enormous mansion have been known to be hanging wide open in the mornings. These same doors were locked and secure the previous evening at closing time. Many believe that this phenomenon is carried out by the restless spirit of Mrs. Erskine. Hans Holzer, a psychic who visited the mansion, believed that Mrs. Erskine was not pleased with all of the visitors who now walk thorough her former home.
The spirit of Eleanor Hewitt, the woman who is primarily responsible for building most of the accompaniments onto the house, is said to restlessly roam the manor as well. She is believed to be the one to blame for following visitors around the place, moving or stealing objects, unexplainable cold spots and the profound scent of women's floral perfume.
In the Ringwood Cemetery, the apparition of Robert Erskine has been seen sitting on top of his own tombstone. This same specter has also been said to walk the night carrying a lantern or chasing visitors out of the graveyard. Robert Erskine's apparition has been witnessed by many over the years.
Also in the graveyard, many have claimed to hear the voices of men speaking in French. Consequently, there are numerous unmarked graves belonging to French soldiers from the Revolutionary War.
Address:
Sloatsburg Road
Ringwood, New Jersey 07456
(973) 962-2240