Gilcrease House Museum – Tulsa County, Tulsa, Oklahoma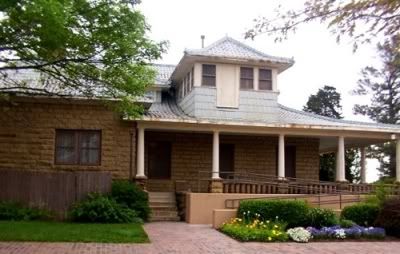 Photograph ©Teri French, Paranormal Investigation Team of Tulsa
Built in 1913, the original Gilcrease Mansion was a square-shaped sandstone built by Flower Nelson on an eighty-acre lot purchased by Thomas Gilcrease. Today, several of the original rooms are still standing within the Gilcrease Museum.
In the early 1940's, the Gilcrease home became an orphanage for Native American children from the reservations nearby but this orphanage was closed when Mr. Gilcrease decided to move back into his home in 1949.
Over the years to follow, Mr. Gilcrease added on to the home and he created a twenty-three acre garden, which became one of his favorite places to spend his spare time.
Today, the spirit of Thomas Gilcrease still loves his former estate. Mr. Gilcrease's apparition has been seen, heard and felt throughout the museum and its grounds by employees, as well as, visitors for many years now.
Most employees have claimed that they have seen the restless spirit of Mr. Gilcrease appear in front of them in solid form at least once. When his spirit is not viewed, it is heard as he walks freely throughout the place leaving the sounds of phantom footsteps in his wake. Mr. Gilcrease also likes to open and close doors and move objects about.
In addition to Mr. Gilcrease's spirit, there are several restless Native American children that also roam the place. These children have been heard playing in the gardens when no visible children were present!
In 2002, the Tulsa Paranormal Investigation Team visited the museum to see what they could find. During their stay they captured a few EVP's, found several objects on the floor that were not there when they first entered the rooms, heard the downstairs piano playing on its own and took several pictures of glowing forms that were not visible to the naked eye.
The Gilcrease Museum still has its claims of paranormal activity and it seems that this may not end anytime soon!
Address:
1400 Gilcrease Museum Road
Tulsa, Oklahoma 74127
(918) 596-2700