Ball Cemetery – Sarpy County, Springfield, Nebraska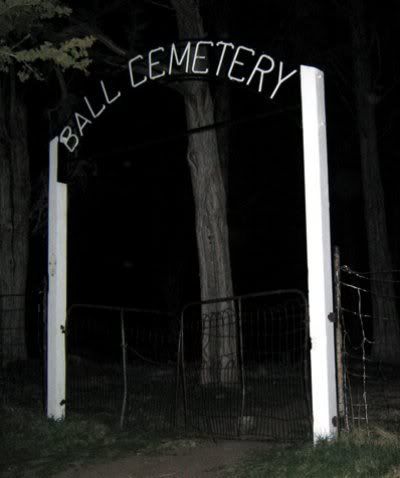 Photograph ©P.R.I.S.M.
Reports of the paranormal happen at the Ball Cemetery frequently. The Paranormal Research and Investigative Studies Midwest (P.R.I.S.M.), did some investigating into the place back in 2005 and found some evidence to the haunting claims. You can find their link at the end of this article.
This cemetery doesn't have a very interesting history but it does have some interesting activity. The reports here vary from apparitions, to physical attacks, to glowing orbs and just about everything in between! Let me just warn you, the neighbors surrounding the cemetery are apparently pretty protective of it and are said to pull out their shotguns if they see anyone trespassing out there at night. Before exploring, please get permission and please do it during the daylight hours!
The apparition of a man has been seen wandering about the tombstones at night. This phantom is said to become violent with some visitors. He is also thought to be responsible for bruises that appear unexpectedly on the arms and legs of cemetery visitors.
The apparition of a woman has been spotted here as well. This female specter is thought to be responsible for tugging at people's clothing, disembodied laughter and the barely audible female voice that is reported by many who have visited here.
Other paranormal reports here include: orbs, mists, phantom footsteps, unexplainable noises, disembodied voices, feelings of being watched or followed and tombstones falling over and standing up on their own!
Address:
20999 South 176th Street
Springfield, Nebraska 68059