The Heceta House – Lincoln County, Yachats, Oregon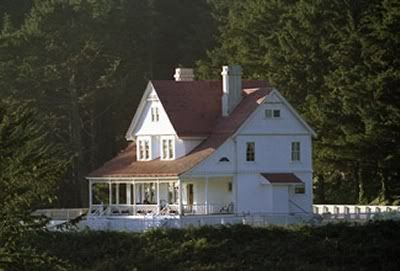 Photograph ©Lighthousfriends.Com
Built in 1894, this lovely little house was formerly used as a home for the lighthouse keepers. Today, the house is used as a bed and breakfast and an information center.
There is one known entity that roams within the Heceta house; this apparition is believed to be the former Mrs. Frank DeRay, a wife to one of the former innkeepers.
The apparition of Mrs. DeRay has been known to cause the sounds of phantom footsteps that seem to come up the stairs from the basement. The sounds of light switches being flicked on and off, dishes rattling around inside of cupboards and cabinet doors being latched are also heard here quite frequently.
Mrs. DeRay's spirit has also been known to turn up the heat inside the house, and has on one known occasion, let out an ear-splitting scream when the owners were trying to play cards; apparently the angered apparition did not approve.
Mrs. DeRay's apparition has been seen on a few occasions. A carpenter, who was hired to do some restorations on the house, had the scare of his life in the attic. He said he saw a reflection in the window and when he turned he came face-to-face with the grumpy apparition. He claimed that she began to float toward him and he took off. This same carpenter had another run in with the spirit when he climbed up his ladder to repair a window and found her starring out said window at him. That was the last straw for the poor man; he left the job site and refused to return.
Today there are still reports of paranormal activity in the house, however, it does not occur as frequently as it once did.
Address:
92072 Highway 101 South
Yachats, Oregon 97498
(866) 547-3696
Website